The development team at TSplus has just released new versions of TSplus Remote Access and TSplus Advanced Security.
Improvements are targeting the same common objective: to provide some flexibility while keeping a high level of productivity and security.
The 12.60 new update brings significant improvements in program performance, to ensure the same level of productivity for installations of all sizes. Sessions open in a snap, even for users that have multiple applications assigned!
The latest version of TSplus stays on the leading edge of modern compatibility. True 'any device' access with the TSplus webportal. TSplus connection clients are compatible with the latest version of Windows (Windows 10 20H1).
A new setting has been added to be able to hide or show the log-off button, available for all connection modes.
The complete list of new additions and fixes is now directly accessible from the "Read Changelog" button on the Home Dashboard.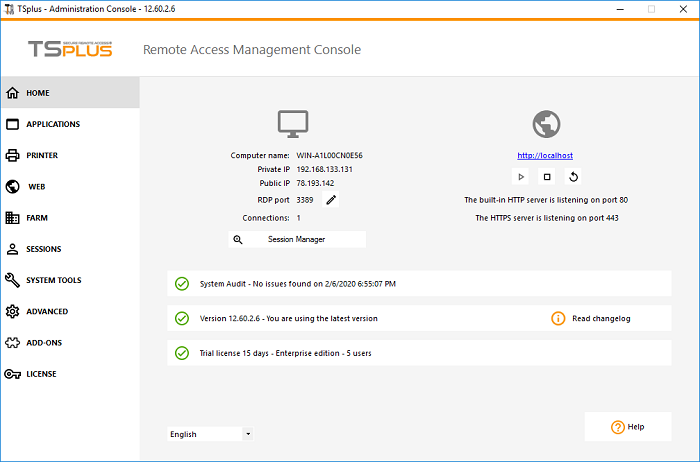 TSplus Advanced Security allows you to use a wide array of flexible tools to control access to your servers.
With the 4.6 version, protection management and customization are now easier than ever before to allow RDS Admins to set the level of protection needed for their specific environment.
It is now also possible to read the TSplus Advanced Security Changelog directly from the Dashboard, by clicking on the "Read changelog" button on the Home section: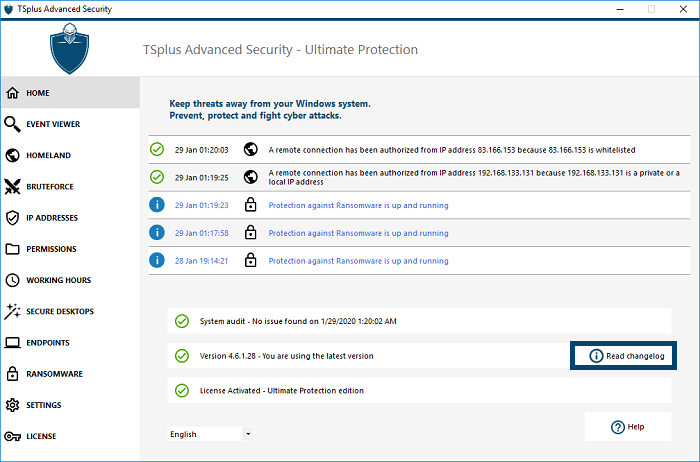 Advanced Setting for Homeland Protection: Check connections on additional ports by adding them on the Watched Ports value setting. By default, RDP, Telnet and VNC ports are already watched.
Advanced Setting for the Product: you can now set a Data Retention Policy value. It defines the period of time after which TSplus Advanced Security events are removed from the database.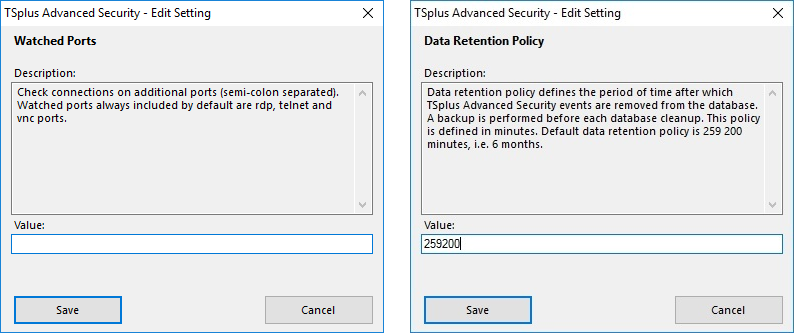 For more information, check the TSplus Changelog, TSplus Advanced Security Changelog and TSplus Documentation.


⇒ Read the latest Press Releases about Terminal Service Plus Products Updates: