The TSplus team is proud to announce the general availability of TSplus 12.50 Version.

This release keeps pushing remote sessions boundaries and contains important enhancements:
Always listening to its customers, the TSplus team introduces the 'Send To Client' feature, a right-click contextual menu that easily lets remote users download files to their local machines:

The Send to Client Contextual Menu must first be enabled by the Administrator on the "Advanced Settings" tab of the AdminTool.
It is now possible to allow access from Microsoft RDP Client for Admins only on the Sessions > Permissions tab of the AdminTool: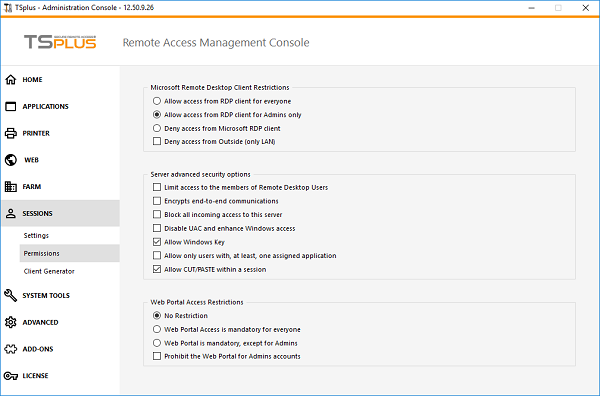 On the previous release, new settings were implemented for the Universal Printer:
– Choices in paper sizes for printing from A4 to any kind of printing format.
– A "Reset User Settings on Logon" box was also added to force the default format of the Universal Printer to the one selected in the AdminTool into each user's new session.

In this release, 2 printing formats were added: Portrait and Landscape.

Add-Ons are now automatically updated at the same time TSplus is.
TSplus 12.50 includes all the improvements and fixes released in previous versions.
Download the latest TSplus Update Release to discover all the latest features.
For more information, see the corresponding documentation: Contextual Menu, Sessions Permissions, Universal Printer and TSplus Changelog.


⇒ Read the latest Press Releases about Terminal Service Plus Products Updates: