RDS-Knight is an unique and comprehensive program to secure RDS Servers.
RDS-Knight already offers a wide range of security measures to protect RDS servers. See the video below:
With version 4.3, RDS-Knight goes further: it introduces the very useful and amazing "Permissions" feature.
The "Permissions" dashboard will give IT admins the tool they were dreaming of to quickly set access rights per users and groups!
It's the best way to protect sensitive data from malicious people and hackers. Read on for more details.
In Windows, file permissions are handled by the Operating System. Windows has a predefined user hierarchy which, by default, defines the scope of access for each user profile and automatically prevents access to sensitive locations.
It is sometimes necessary to manually configure Windows permissions to prevent security risks.
Careful permissions management becomes even more important when your server is exposed to the outside world through remote access protocols.
Misconfigured Windows permissions are as common as they are dangerous.
If Important files do not have the best possible permissions scheme in place, hackers who succeed in connecting to your remote access servers will have free run of your file system.
Windows permissions management is often overly complicated. RDS-Knight is the Security Multi-Tool, so it seemed like a natural progression to tackle the issue of permissions related security problems.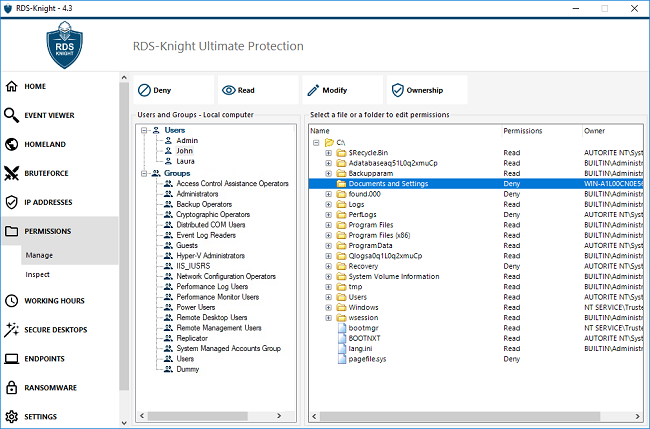 From the new Permissions tab of the RDS-Knight management console, Admins will see the list of users and groups and the list of available folders, side-by-side.
Everything is visible in one spot, which makes it super easy to Inspect (RDS-Knight Essentials ) and edit (RDS-Knight Ultimate ) permissions.
This avoids all the ambiguity and screen clutter that comes with native Windows permissions management.

It is a great addition to the RDS-Knight arsenal to make servers more secure. No Ransomware will be able to execute and encrypt a file where the user has limited rights!
Security Checks: Basic security checks were added on the system audit: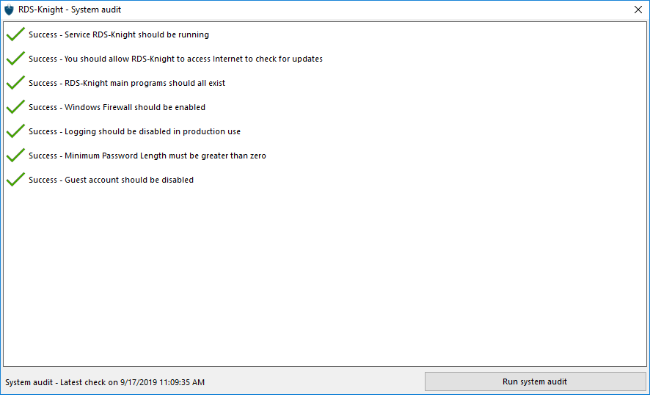 A new database has been implemented to store Events, IP addresses, Ransomware attacks reports and programs whitelists. This database is stored in .\data:

With this improvement in historical data storage, the Security Event Log is now able to provide a complete event history as far back in time as Admins wish to check.
A filter helps sorting events by date and period of time. Combined with others basic security check capabilities, this enhancement turns RDS-Knight into a real Security Audit tool.
Download the latest TSplus and RDS-Knight Update Releases to enjoy optimal capabilities or purchase RDS-Knight for a higher level of security!

More information can be found on RDS-Knight Documentation and RDS-Knight Changelog.