The development team at TSplus has kept working all Summer to provide you with great features and an easy-to-manage Remote Desktop solution.

Before we look at the details of the most recent TSplus updates, we are pleased to invite you to intend our next webinar:
Organized by ClarionLive! Developers Group, the talk show will present TSplus Version 12, TSplus Two-Factor Authentication and RDS-Knight's key features developed in 2019. Demos and Q&A will come to illustrate our presentation.

As you may already know, Like PowerBuilder, Delphi, Uniface or Visual Studio, Clarion is a leading 4GL workbench used to develop mission-critical applications.

Please join us September 6th, from 6:00 P.M. CEST. Register for free at the following link. If You miss it, don't panic. You can watch the recorded streaming directly on YouTube.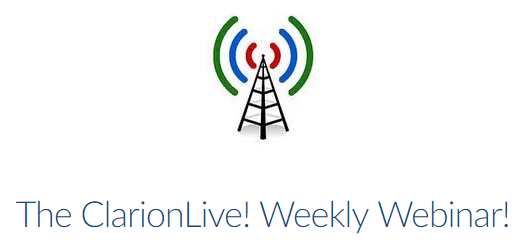 Several updates have been published since TSplus Version 12.40 was released at the beginning of July.
Improvements related to Two Factor Authentication and the Universal Printer, as well as The Lockout Feature integration will delight our customers.
The 2FA Security Add-On offers a two-step verification process designed to strengthen the security of your TSplus web portal.
Whether logging into your work emails or company apps, TSplus 2FA allows you to use your corporate web portal securely from any device.
Connections will be allowed only if the user correctly enters two pieces of information: Personal credentials and a unique authentication code received on a separate device. It even works offline!

With TSplus 12.40, the 2FA feature is enhanced with an advanced setting: user whitelist for all connection types.
From the 2FA dashboard of the Management Console, admins can quickly white-list selected users or groups of users to allow them to connect via the Web Portal or an RDP client without providing an authentication code.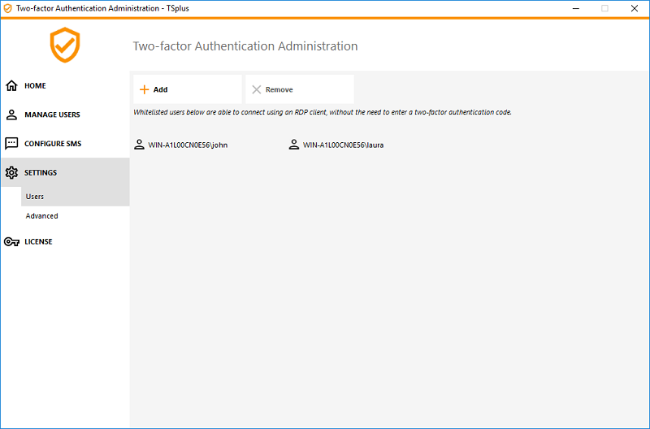 Recent updates cover Web Management and Web Portal enhancements, introducing the Lockout Feature, which monitors failed Web Login attempts on your TSplus server.
It logs attempts and automatically blocks the corresponding user after the authorized number of failed attempts has been reached.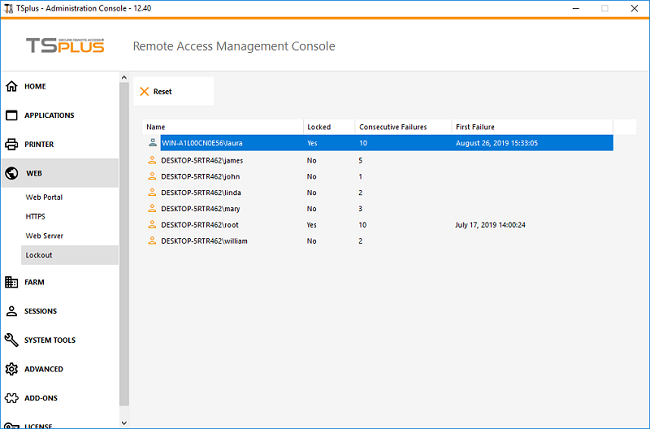 A large update has been rolled out for the Universal Printer management tool. Printing options are now easier to find and configure.
Page sizes can be chosen on a drop down menu and an option was added to make resetting custom configurations at login easier.

Compatibility improvements were also made for the latest Windows update 10 1903 related to application publishing, environment display and session duration.
TSplus is constantly updated for the best performance.

Download the TSplus Update Release to enjoy optimal capabilities or purchase TSplus 2FA for a higher level of security!
Go to these documentation pages about Two-Factor Authentication, TSplus Lockout, as well as our Release Notes page with our products Changelogs for more details about the new features.


⇒ Read the latest Press Releases about Terminal Service Plus Products Updates: