Spring is already here, while our team of TSplus specialists has not been idle and has been working hard to kick off the new season with a bang. To provide our users with the most efficient and safe solutions possible, we have made some great improvements to our products. Today, the highlight improvements concern TSplus Advanced Security.
Threats against computer networks are constantly evolving, cybercriminals are still looking for a new and even more cunning ways to break through the protective walls of corporate systems. Therefore, we realize that our flagship server security tool, TSplus Advanced Security must do more than evolve to simply meet these challenges, it must stay ahead of the game.

As the number of employees operate from home as a result of the pandemic increases, so does a surge of attacks targeting Remote Desktop Protocol. To combat this threat even more effectively, TSplus Advanced Security has been enhanced to provide the most efficient anti-ransomware available. This is, of course, not the only notable feature (we also have a Brute-force protection in the arsenal), but in the face of intensified attacks performed by cybercriminals, wanting to take advantage the remote work situation to significantly expand their malicious activities, the systems protecting remote access and coroprate data from ransomware attacks have become the most necessary security tool.
Why the Gobal Shift to the Home Office Is A Boon for Cyber Criminals
TSplus development team is happy to announce more performant and robust Ransomware Protection for companies using Remote Desktop!
Because Remote Desktop solutions such as TSplus give the ability to remotely access Windows servers or workstations, this protocol is widely used in organizations today.
In the face of the COVID-19 pandemic, numerous businesses have had to shift to remote work to maintain business continuity. This made RDP a popular target for cybercriminals. Attacks on RDP began to grow rapidly in the spring of 2020, when more and more organizations were closing their stationary branches and employees were quickly organizing a home office. Cyber criminals quickly took notice. After one year, this trend of intensifying attacks on remote desktops shows no signs of abating.
Ransomware attacks are still a very serious threat. "Ransomware is one of the top threats in cybersecurity," said John Davis, vice president of public sector at Palo Alto Networks.
As the data indicates, 2020 will be written into the cybersecurity history as the year of the explosion of ransomware infections. Another disturbing trend is the shift from a simple ransomware model to combined attacks, in which scammers obtain data before they encrypt it. In such cases, failure to pay the ransom does not result in the destruction of stolen information, but in publishing it in open sources or selling it at special closed auctions.
Ransomware remains an effective tool in the hands of cybercriminals as many companies are still ill- equipped to deal with the threat and data security emergencies. This prompts many victims to succumb to extortion demands and pay a Bitcoin ransom in the hope of receiving the decryption key needed to restore the functioning of the network. Despite the awareness that such action does not guarantee data recovery, the vast majority of companies that fall victim to ransomware attacks are committed to preventing downtime and the resulting losses.
Due to this lack of proper protection and awareness, Ransomware shows no sign of slowing down and the average ransom paid to cyber criminals by organizations targeted by these attacks has nearly tripled in the last year: ZDnet.com states that this increase was about 171% between 2019 and 2020, affecting many businesses across Europe and North America.
Since phishing emails are still a popular way for cyber criminals to infiltrate networks, experts suggest that workers should be trained to recognize threats. And with the right cybersecurity program, organizations can be sure to keep their data safe.
That's where TSplus Advanced Security stands out.
Install the Most Advanced Anti-Ransomware for Remote Desktop
To combat the growing number of attacks, as well as effectively tackle the changing nature of existing ransomware, we have improved TSplus Advanced Security. All this to provide you with the most advanced anti-ransomware protection available.
The latest version of TSplus security add-on v5.3 includes important improvements and fixes for the best protection against Ransomware attacks.
With the release of version 5.3 Advanced Security, we took another powerful step towards an advanced security system for remote connections. Version 5.3 offers the best-ever protection against ransomware. Over 3,500 static definitions have been added to the library to protect against these malicious attacks, but that's not all.
The big news is the massive upgrade to Advanced Security's Intelligent Analysis Engine.
The Analysis Engine is a behavioral monitor that watches file activity on a server and responds to threats based on how files interact with the system and with each other.
In addition to making the system smarter, we've added minor stability and quality-of-life improvements throughout the entirety of our product line.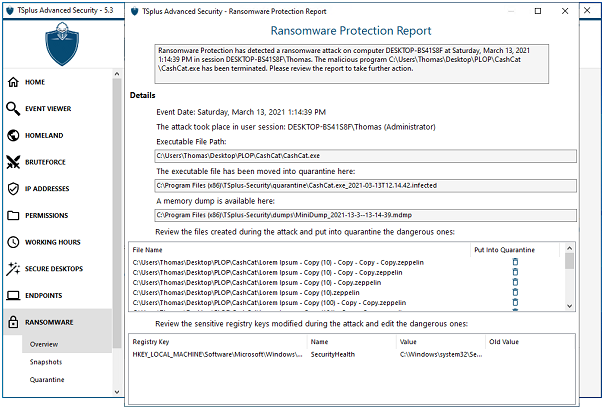 The Ransomware Protection feature's engine has been enhanced with over 3,500 additional static detection rules, making it an unbreakable wall and an effective barrier against ransomware, regardless of its nature or operational mode. Behavioral detection has also been greatly improved to ensure that legitimate applications remain allowed for all users. A more efficient driver implementation ensures that a recovery session can always be opened in the event of a system crash!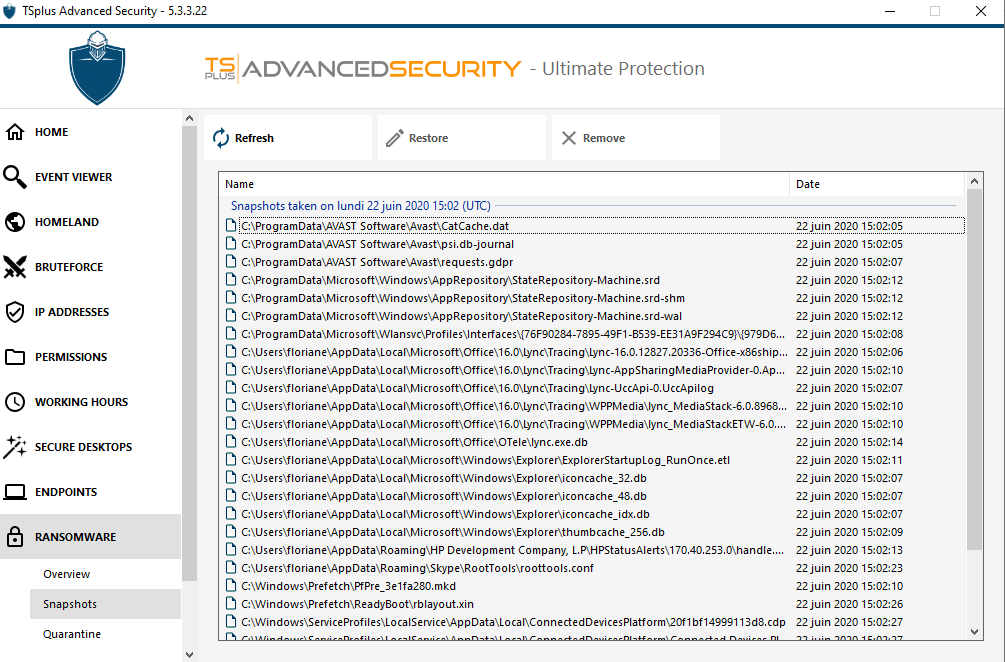 TSplus Advanced Security Backups and restore corrupted files
TSplus knows that customers are expect the best protection out there. The commitment to development is what keeps TSplus Advanced Security in front threats, instead of just keeping up.
While ransomware has come to the fore in the current cybersecurity landscape, some of the most common attacks against RDP remain brute-force attacks. That is why ZDnet.com also recommends that remote desktop services be protected with strong passwords and multi-factor authentication, as well as security fixes to prevent attackers from exploiting known vulnerabilities.
All these features and more are included in TSplus Advanced Security latest version and the others software from TSplus' range.
Install TSplus Advanced Security latest version and discover its wide scope of action to keep networks and servers secure.
Or download TSplus Remote Access and try all the security add-ons for free during 15 days:
TSplus 2FA
TSplus Server Monitoring
And more…
Keep an eye on our product documentation and Changelog updates for more details!

⇒ Read the latest Press Releases about TSplus: