TSplus Version 9.30 is a powerful new release with a wide range of new features, brand new user interfaces and performances improvements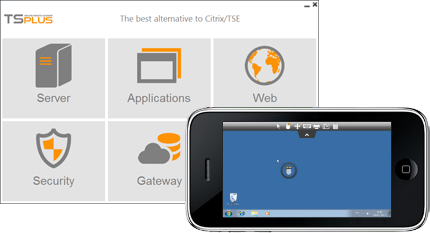 With TSplus Version 9.30, your will get more without extra charge.
Announcing TSplus new major release 9.x
We are pleased to announce the immediate availability of TSplus major release 9.x
This powerful new release incorporates a wide range of new features and functionalities, including:
All user's interfaces have been redesigned for more simplicity and efficiency
Citrix-like Web Application Portal
Basic/Core/Home editions are fully supported as TSplus servers
Several new languages added
HTML5 client experience design on iPad, iPhone, Android smartphones and tablets, Blackberry, W8 smartphones
Load Balancing and Failover system
Reverse-Proxy and Gateway server
Open Word/Excel/… documents automatically on the user side (avoiding the need to install Office on the server)
New Client Generator's interface
New MS RemoteAPP support of all versions of Windows
New Seamless client technology supported by all versions of Windows
New Kernel for better performance and stability
New Online documentation
And still all the new features and functionalities of TSplus, including:
Integrated Gateway. The WEB Gateway can easily be deployed in small, medium and large environments to provide a high-availability, secure gateway to multiple TSplus Hosts with Single Sign On (SSO).
Active Directory Support. Allows administrators to easily control access to Windows apps based on user groups.
Web-based User Access. Users access their applications and files from any web browser using the HTML5 or Windows client.
Universal Printer. The Universal Printer has been extended to all kind of web access, including HTML5.
Simplified Installation. Installation has been streamlined using role-based installation with automatic setup.
Mobile Client Support. iOS and Android mobile client access to TSplus Gateway is available with the new TSplus HTML5 connection client.