Executive summary: The new TSplus 9.60 Release gives a whole new dimension to the Floating Panel for RDP. The Floating Panel has been especially re-designed to offer you amazing new display options and provide the best user's experience.
Connect to your Remote Session with the Floating Panel by TSplus
With the TSplus AdminTool, the Administrator can easily decide what will be the default Remote Desktop theme that the user will be able to see when opening a session. The Floating Panel, a mini drop-down list of applications, is one of the highly appreciated display modes by TSplus customers.
TSplus Floating Panel is directly embedded to the local Desktop and acts as a floating window, displaying only the applications assigned by the Administrator, or the user's desktop folder content, or a specific folder. Thus, by editing the users menu, the Administrator can add or suppress applications and functionalities. In addition, TSplus 9.60 offers many options to easily customize the Floating Panel by allowing the administrator to select the color or the text he wishes …
Here are the numerous changes you can apply to your TSplus Floating Panel:
With or Without Slider
With or Without your Company Logo
With or without Minimize/Close buttons
Easily change the background color into your favorite one
Easily change the text color
Add a Logoff icon
Use Only icons, without any text
These various options will allow you to improve the end user's experience along with the visibility of your applications. You can also chose to personalize the Floating/Application Panel style with a pop-up style or a Windows style.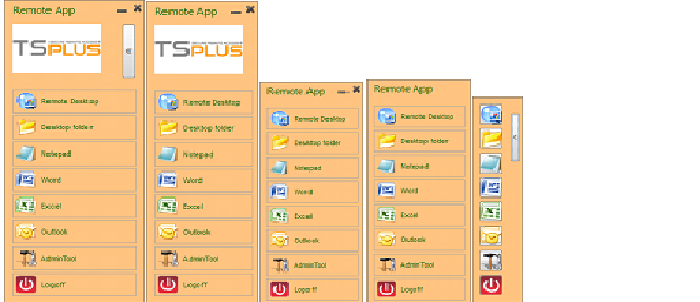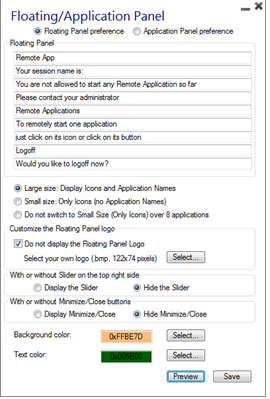 TSplus cares about its customers' preferences. The Floating Panel is just one option among a large range of possibilities for the Remote Desktop session theme: fully customizable Remote Taskbar, full Remote Desktop with or without logo, Remoteapp mode…
To find out more about our product and discover its amazing features, please visit our website and download our 15 days trial version for free.
About TSplus:
TSplus is a privately held company. Since 1996, TSplus is specialized in remote-access technology, continuing to expand its experience and expertise in deployments of all sizes.
TSplus is the most cost-effective and easy-to-use alternative to Citrix. TSplus is providing Web Portal, HTML5 client, Session Management, Load Balancing, Universal Printer, Seamless Remote Application, Application Control, RDP Defender and much more without the complexity of Citrix.
For any questions, comments, suggestions or sales inquiries please send an e-mail to andrzej.krystaszek@terminalserviceplus.com who will be pleased to answer you.