TSplus is happy to announce the release of the new version of Remote Support V3! The program has been completely rebuilt to provide an improved user experience, challenging historical Saas actors in the market such as TeamViewer and superremo . TSplus hopes that this massive change will not only meet but exceed customer expectations and help expand the brand's presence in the market.
Universal SaaS solution for remote support
TSplus has released a new version of its software for remote support agents and outsourcing companies – a remote control and screen sharing tool. TSplus Remote Support version 3 has been given a completely new look, with the interface and installation process being simplified and streamlined.
What was the idea behind these changes?
While maintaining its uniqueness focused on simplicity of operation, Remote Support was also intended to offer an experience similar to that which users have become accustomed to from well-known competitors such as TeamViewer . The goal was simple and obvious – so customers could start working quickly without hassle and without having to learn a new process. The main difference is in the price!
Remote Support will now be offered as SaaS (Software as a Service) with a monthly subscription. This gives customers great flexibility in planning their IT budget, and at the same time makes this solution accessible to the majority. The price is fixed for simultaneous connections on a remote computer, starting at $14.50 per connection, with access to up to 50 unattended computers.
Back to basics: screen sharing as easy as one click
Like the already known solutions in the market, Remote Support allows users to share the screen with a technical support agent in one click. No installation is required on the client side, and to make life easier, it is exactly the same program that works for both agents and users. In fact, the distinction now is who is in control and who is sharing the screen.
The operation is simple: after starting the program, the agent must enter the client ID and the one-time password created by Remote Support to connect to the user's screen: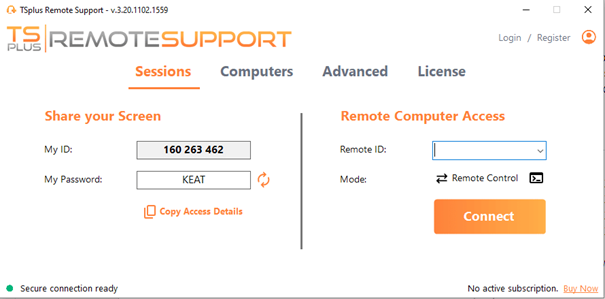 Agents can create a personal login with password to easily access their user information logs and PC IDs, including the list of unattended computers.
Remote Support focuses on features that are typically needed in various support environments:
Screen sharing / sharing
Remote control of computer, mouse and keyboard
Unattended access
Chat window
Information about the client's device and system
Send command lines
File sharing
Clipboard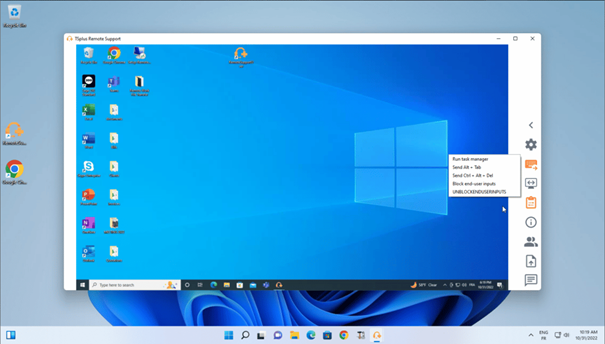 In addition to these essential tools, TSplus Remote Support V3 offers some useful management functions for Technical Support Agents. The Computers tab keeps track of each new connection and automatically adds the client to the list of known computers. Using the "Advanced" tab, users can allow unattended access to their computer, and agents can generate clients, customize required client information, and access connection reports.
Among the available additional parameters, agents will probably appreciate the ability to send remote commands without fully connecting to the desktop.
The key difference between Remote Support and other remote assistance software is that Remote Support automatically scales the display quality to account for bandwidth constraints. This allows the joint to operate smoothly and quickly under conditions that may be problematic for another similar tool.
For more information, see the online documentation.
With all these improvements , TSplus Remote Support Version 3 is simpler, faster and cheaper.
Remote Support V3 is generally available for download in a full 15-day trial.