How can small and medium-sized organizations successfully make the move from Windows 7 to Windows 10 without dramatically increasing their budget and IT department's workload? This article aims to give insights on a great solution: TSplus Remote Access.
Windows 7 is ending: What's next? 
The clock is ticking for IT teams: with the end of support for Windows 7 looming — it ends on Jan. 14, 2020. The time has come for corporate decision makers to come up with a cost-effective, durable and easy to deploy solution to make the switch to Windows 10. TSplus can be the right answer.
Moving to a new version of an operating system means two things: companies need to consider how Windows 10 will work with their existing Windows legacy applications. For many, it also means costly hardware upgrades and workstation replacement.
To help ease these transitions, TSplus has developed a smart and easy-to-use Remote Access solution. With RDP and HTML5 connection clients, users can get access to the applications they know installed on a central server. It works with any Windows OS and any device — a great way to save time and training costs.
TSplus Web-Enables Any Legacy Windows App.
TSplus is a field-proven technology in cloud computing.
With the TSplus HTML5 client, any legacy application can be made WEB accessible instantly, without a single line of programming script.
This means that a company can keep using its usual business and productivity software, regardless of the version of Windows its employees are using.
TSplus leverages existing hardware and allows you to manage your legacy business applications centrally.
Users are able to connect to the TSplus Application portal from anywhere just using a web browser on their workstation or mobile device.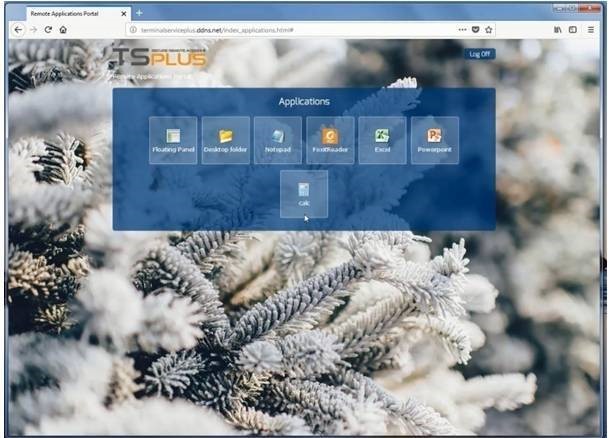 The software is affordable and manageable enough that startups and small businesses can spend more time innovating and less time worrying about their IT infrastructure and overhead costs.
At the same time, the TSplus technology is scalable and secure, with advanced management and deployment tools allowing for efficient integration into an enterprise environment.
Start using TSplus Enterprise today for a smooth and successful transition to W10.