Remote Access Systems have long been favorite targets of hackers. A successful attack can result in a variety of devastating consequences including financial loss, damage to brand reputation, and loss of customer trust.

Since its initial release as a stand-alone security solution in 2017, RDS-Knight has evolved into a reliable and easy-to-use cybersecurity multi-tool. It responds to the latest RDP targeted attacks, continually improves an organization's security posture and reduces the time spent managing IT security.

RDS-Knight offers 6 powerful security tools that can be deployed and managed with just a few clicks:
Prevent: Act on known RDP threats. Minimizing the attack surface with carefully controlled access is an important part of the first line of defense. With Working Hours Restriction and Homeland Protection, you can control Who can access to What, and When. For higher security, you can even lock down a user's environment (One Click to Secure Desktop) and limit access per device (Endpoint Protection).
Detect: Identify RDP threats. Advanced threat detection technologies have been added to automatically detect previously unknown threats and create actionable threat intelligence to mitigate RDS risks. The last 2500 blocked attempt and actions taken are automatically listed in the Security Event Log, a great tool for back-tracing problems or security concerns. Similarly, you can easily check and manage all blocked and whitelisted IP addresses from one place.
Defend: Respond to Remote Desktop attacks. Once a new threat is identified, action must be immediately taken. This can be handled automatically using RDS-Knight direct intelligence sharing between detection and prevention features. With BruteForce Defender and Ransomware Protection, prohibited access will be detected and automatically logged out from your server.
Since version 4 release, RDS-Knight comes with a newly redesigned User Interface. Based on a smart and easy to use design, the new RDS-Knight interface offers greatly improved experience and feature sets for both Users and Administrators.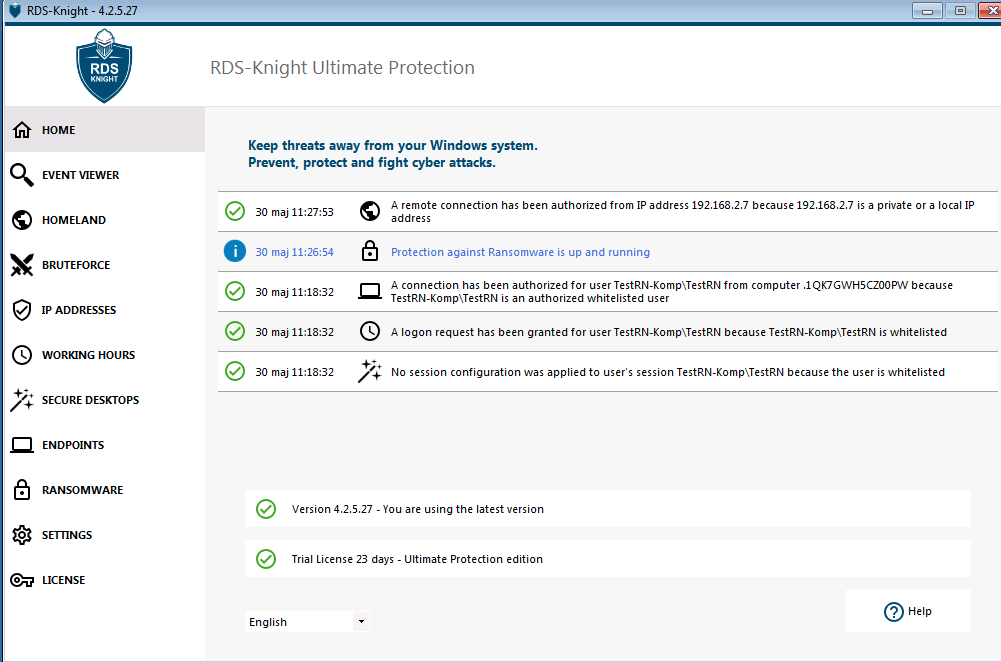 Download and try RDS-Knight: a smart, reliable and efficient all-in-one security solution to tackle Remote Desktop threats head-on.
To know more about RDS-Knight's great features, visit our website.