What is a good Remote Desktop alternative?
A good Remote Desktop alternative will not allow an organization's IT systems to jeopardize the quality of business operations and customer service. It is essential that whichever Remote Desktop solution you choose offer financial stability, support and ongoing technical development, a simple licensing model, quick installation and easy day-to-day management.
Below, you'll find information to help you compare TSplus and 2X, including features, customer experiences, pricing and thoughts from current TSplus customers who have made the switch.
We hope this will help you to decide.
TSplus is a simple 2X alternative
2X is great for a lot of things, but simplicity isn't one of them.
When the process to open a Remote Desktop session is complicated, it can add hours of wasted time to a support service. And that's a lot of lost productivity.
We understand how devastating that can be.
That's why we stripped out the more complicated edge-case features of 2X, and kept only the most important time-saving Remote Desktop tools:
Installed in a snap and easy to manage: with your TSplus AdminTool, you can operate changes in few clicks, so you only have to refresh your remote session to see them.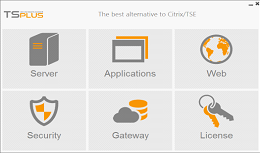 Thus, you can settle specific parameters and administrate your users' remote access from a single central site. Only you can select and assign the Windows applications that you want to display for each user.
You'll get awesome core features like Client Generation, Remote app connection, Web Application Portal, Remote printer and Gateway without having to navigate a maze of features you don't need.
And if you ever want to enhance TSplus beyond the core help desk, you can do that with our free TSplus Add-On, RDP-Defender.
t really is like 2X on steroids. Just as simple, but way, way more powerful.


"We started to use TSplus 4 years ago for the needs of our company, a software developer, network manager and datacenter. TSplus is an excellent product and we highly recommend it!"

SERVICIOS INFORMATICOS, CCMV S.A (Costa Rica)

TSplus is a cost effective solution.
When you take a closer look at your company's Remote Desktop solution, you may find that you are investing and paying for "excess" Remote Desktop technology and certain capabilities that don't necessary add value to your bottom line.
TSplus Remote Access solutions meet all the specific requirements of a business, accompanied by a lower TCO (Total Cost).

Simple to use: TSplus is completely transparent to your users; they get access to the applications they already know. You save time and training costs.
Affordable: we get it, 2X is very affordable, especially for small business.

But we believe that the value you'll get from TSplus far outweighs the cost. And more than 100 000 happy business customers agree.
If our Remote Desktop and Application publishing features can save your users just five hours per month, then TSplus will more than pay for itself.
Our pricing is simple: just $250 for a 5 users license Mobile Web Edition.
TSplus enables high productivity.
Access to your Desktop from anywhere, at anytime. Open a session from your PC, MAC, Smartphone or Tablet using your Windows RDS or any Web browser. TSplus supports all kind of system from Android to Linux, Windows XP, Windows 7, 8,10 and 12.
Plus, TSplus's Support Service makes it easy for your team to save time by offering a rich online documentation, tutorial videos, FAQ and a 24/7 helpdesk to your users.
Your customers are used to work with your Windows Legacy Application. And you want to keep them satisfied.
That's why we made TSplus Web Application Portal customizable to look and feel exactly like a Corporate portal to your customers' employees:
it is easy to adapt the working environment to your customers needs; choosing the font image, the colors, adding a logo, assigning only selected Windows legacy applications, displaying the remote session as a floating panel, a full remote Desktop or with the Remoteapp mode.
Just a simple, personal experience of Application publishing thanks to the TSplus Web Portal.

Here are a few more reasons to switch…
We work hard to get to know all of our customers. One of the things we always ask is: why did you sign up for TSplus?
Hundreds of happy customers have switched from 2X. See what they had to say…

"We are super happy with the product, and it has performed well!"

Dustin Britton
BRITTON'S WISE COMPUTERS, Inc. (Australia)
"We have discovered TSplus only few months ago and we have already created many remote clients. We are very satisfied with your solution. Keep on staying on top of future changes in operating systems and browsers as you have."

COOK & CHEEK CPAs (USA)

Ready to give TSplus a try?

We hope this comparison guide was useful to you.
Making the switch is easy; you can get your whole team set up on TSplus in just a few minutes.
To sign up for your free, 15days trial, just click here.