Since TSplus Remote Access version 14.50, released in January, we have introduced useful new features to the License Portal, which is the fundamental licenses management tool for our Partners and Customers. Let's take a look at how these changes facilitate operations and the solution implementation process.
A More Efficient License Provisioning Tool for TSplus Software Resellers  
The TSplus license portal provides partners with a dedicated space to manage their license portfolio. For each client, TSplus resellers can create a unique Activation Key that will allow them to assign and manage the list of licenses purchased by the client and a number of necessary information, all from one place:
The list of licenses per product, including if a Support and Update license has been purchased.
The number of users per license
The date of purchase and the expiration date for the Support licenses.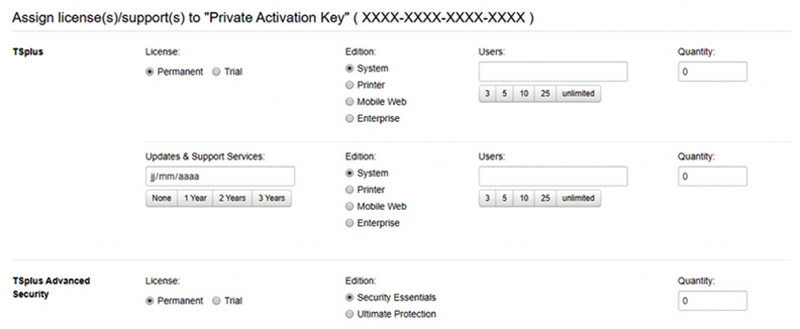 It is easy to add, remove, or edit the information in a click. Thanks to a "refresh" button, this information can also be automatically updated to actively monitor license use during a deployment. The portal is intuitive and colorful for the best user experience.
As part of the recent version 14.50 release, TSplus enhanced the License Portal with two crucial features, so that partners can manage their licenses autonomously –in ways that work best for them. TSplus Partners can now:
Generate trial or permanent licenses on demand
Download the license file or send it directly to the client. An email template is even suggested!
These new options, allowing for comprehensive license management from the Portal level, free our Partners from the need of contacting TSplus technical support. Removing this step from the licensing process enables partners and resellers to better, faster and more adequately respond to their client needs.
The overall look and design of the portal has been further improved to provide better navigation. Thanks to the systematized process, we managed to achieve the goal that has always guided our activities – to make the management of TSplus licenses as simple as possible.
A Comprehensive Network Management Tool for IT Administrators 
Using the Activation Key received in their Order Confirmation, Customers have their own access to the TSplus License Portal too.
IT specialists and Network Administrators only have to click on the "Activate License" button in the License tab of the Admin Tool and enter the Activation Key to activate each license by themselves, including Support and Add-ons.
With this single action, Licenses and Support are automatically activated on the specific device associated with a serial number, which greatly facilitates hardware identification.
From their personal space, customers can easily perform several self-service license management tasks such as upgrading or rehosting their licenses to a new server, whenever they wish!
This makes network management and license audits much easier!
The upgraded Customer Portal gives another new bit of useful information, which aims to give IT Admins more control over their infrastructure's evolution – client credits. It is now possible to view the number of users ordered and/or still available per license. And to make the best investment plan and optimize their software budget, Administrators can create and manage a list of resellers and check their order history with each of them: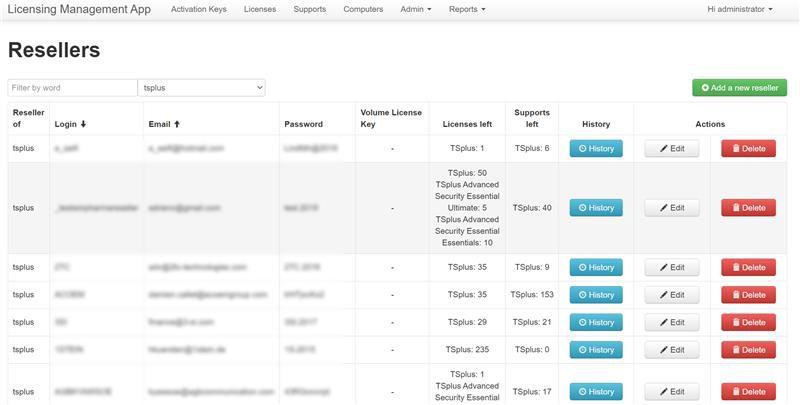 TSplus has a dedicated team focused on offering the best possible License Portal and ensuring the highest satisfaction of its customers.
Stay tuned to learn about further improvements and download TSplus to try the latest updates.
Or join the TSplus Partners program now.