TSplus is proud to announce the release of TSplus Secure Remote Access Version 14!
V14 comes with a new License Management System which has been built with simplicity and security in mind.
With this new innovation, TSplus developers have looked to make License Management as easy as possible for you.
TSplus V14 introduces the Activation Key, a new concept which eliminates forever the need for thousands of license files!
How does it work?
A unique Activation Key Per Client: All purchased licenses of products, add-ons and associated Support service can now be integrated into bundles for easy management.
Intuitive Licensing Portal: Partners have access to a dedicated space where they can check the list of assigned licenses per key and quickly handle any necessary change.
Self-Service Activation Process: All the licenses assigned to a Key can be selected and activated at once, directly from the "Activate your license" buton in the Admin Tool.
Better Hardware Identification: Licenses are automatically associated with the physical or virtual environment and a specific serial number.
Online Self-rehost: The Customer portal allows Admins performing rehost to a new computer in a snap just using their Activation key and the serial number.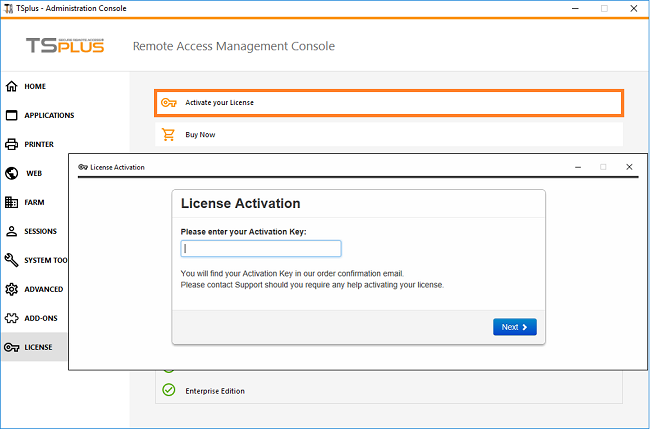 A Customer Portal User Guide is available to get familiar with the new Licensing system and get more details about its cool features.
The TSplus team continues its commitment to delivering the simplest and smartest Remote Desktop services, from the purchasing phase to the most advanced customizations.
TSplus version 14 includes further improvements and the latest version of TSplus Advanced Security with a new Ransomware protection more powerful than ever!

Test it now to feel the difference: Download TSplus V14 Update Release. Or subscribe to our Support and Update services to be able to upgrade!
For more information, check the Release Notes, Changelogs and Online Documentation.