TSplus Remote Support. The Best Alternative to TeamViewer and LogMeIn for Screen Sharing and PC Remote Control.
TSplus is pleased to announce the release of the first version of Remote Support: a smart, secure and cost-effective solution for effective remote support via remote desktop control and Windows session sharing. Remote Support is the latest addition to TSplus' extensive product line, a leader in affordable remote desktop and application delivery, network security, and server administration. The program regarding the current reality of transforming business models, increasingly based on technological possibilities of remote work, has a chance to conquer the market with great potential.
Taking the Opportunity of The Dynamic Market of Remote Desktop Support
One of the significant challenges related to the enterprise IT support is solving problems, whenever it is necessary. An indispensable attribute of every company should be appropriate tools for reliable remote access to its fleet of devices, providing quick and effective assistance in emergency situations.
There are many remote desktop support tools on Windows, but TSplus Remote Support offers the best solution of all. By investing time and money in constant innovation, TSplus now offers a smart and cost effective alternative to TeamViewer, LogMeIn or GotoMyPC.
Find out more !
Easy to Use, Private Remote Support Software with Perpetual Licensing
Remote Support is a web-based Windows session-sharing tool that enables support teams to access the desktop sessions of remote users. In addition to the integrated security, the solution focuses on providing an easy-to-use tool and optimized user experience. From the low licensing cost to the small software footprint, TSplus Remote Support checks all the boxes, standing out from the competition.
Remote Support is easy to install and easy to use for administrators, support staff, and end users alike. Administration is a breeze thanks to a clear and intelligent control panel that allows you to quickly and easily manage connection settings and support agents. Moreover, this Support Portal is accessible via any web browser. Help Desk Agents can see all end-users waiting for support directly from the home screen, which contributes significantly to the quick and smooth management of inquiries.
No special IDs or PINs are required. The application generates a link that the Support Agent can email to the user to download a small browser plugin that allows Windows sessions sharing via the network. It's easy to use and can be used to connect to PCs and share screens remotely; control the mouse and keyboard and provide optimal assistance. Other cool features include file transfer and clipboard, chat, and remote system information – great for troubleshooting.
Remote Support guarantees data privacy and security for all connections. Installed locally or in the cloud, TSplus securely manages remote connections with a unique URL available on the Remote Support web portal. The TSplus Remote Support server and the entire connection process are under the control of the corporate administrator.
We offer Remote Support with a perpetual license! You no longer have to struggle with monthly rental or subscription fees … Customers pay once and own the support infrastructure forever: up to 5 administrators and support agents can use Remote Support on an unlimited number of Windows PCs. No more inflating IT support costs. In fact, the portal interface is fully customizable, with an editable logo or company details and a color scheme according to your company's branding: all this is free of any additional costs.
To learn more about TSplus Remote Support, stay tuned… soon, the new TSplus Remote Support will be available in our online store's offer.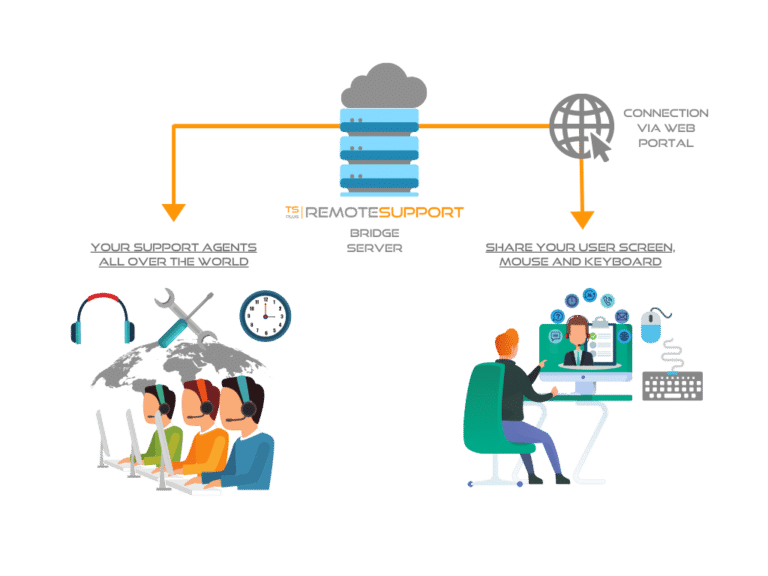 In six out of ten organizations consulted by Cisco this month, more than half of employees worked remotely during the lockdown period, and 37% expect this trend to continue.
If it is necessary to implement a home office, the main technical challenges are maintaining the level of customer service and satisfaction, smooth ongoing coordination of personnel and equipment activities and the organization of additional support for employees. Moreover, data security and privacy must be considered as fundamental conditions right from the start!