TSplus has just released a new version of its Remote Desktop and Web Portal solution: TSplus 12.40. Changes include all minor updates since version 12.30, RDS-Knight latest 4.2 release and a significant improvement regarding the Connection client set-up
The TSplus 12.40 update is now available! Along with all the fixes and improvements released in previous versions, this update marks a new step towards the simplification of the RDS Administrator's job:
The Connection Client and Web Plugin (RemoteAppClient) have been merged and can now be deployed with a single "Setup-ConnectionClient.exe".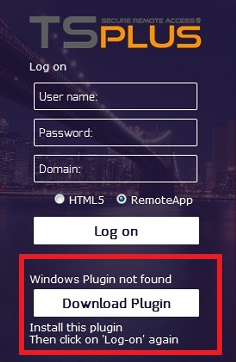 What does it mean for TSplus setup?
The TSplus Client Generator enables administrators to create 3 types of connection clients which can be copied to the users' Desktop or onto a USB stick for portable use: Remote Desktop, Remote App and The Seamless Client (for Windows versions older than W7).
On the Client side, previous versions required users to run "Setup-ConnectionClient.exe" to be able to connect using TSplus remote desktop solution. However, to use the RemoteApp connection mode and display the applications "as local", they would first have to connect to the Web Portal and download a specific Windows plugin to install. This is now history.
TSplus 12.40 simplifies RemoteApp Deployment
With only one set-up to enable both connections, TSplus 12.40 continues to simplify the experience for administrators and users.
The installation process becomes a breeze
The program footprint is smaller, taking fewer resources and less space on the system
Connection client deployment is easier than ever.
This change follows the theme of the improvements brought to the TSplus' administration console in the release of version 12. The development team is focused on keeping TSplus at the forefront of the remote access industry with the most secure and intuitive solution.
TSplus places its customers' feedback is at the core of this strategy for innovation.
"With each new release, we strive to include specific requests in order to offer the best possible user experience. "
Adrien Carbonne, CTO.
Download the TSplus Update Release to enjoy optimal capabilities.
To know more, details of the changes can be checked on TSplus Documentation pages about the Connection Client Setup, the RemoteApp Plugin and TSplus Changelog.