TSplus is proud to announce the general availability of Advanced Security Version 5!
This is a major update for the security Companion Tool, which includes an important innovation: A brand-new Ransomware Protection system.

Ransomware is an ever-increasing threat to remote desktop services.
The COVID-19 crisis has only accelerated this trend with the widespread implementation of Remote Working. Lately, attacks have reached a new record!

As an experienced provider of remote access technologies, TSplus is well aware of the risk.
That is why Advanced Security is there: to lock entry points and prevent all kinds of breaches.

With Version 5, the Ransomware Protection feature has been redeveloped from scratch to greatly improve its efficiency.
– How? By using a combination of two detection methods: "Static" analysis – checking new files against database of suspicious types.
"Behavioral" analysis – which looks past file types into the interactions between incoming files and the host system.
Ransomware is detected and blocked before any file can be encrypted.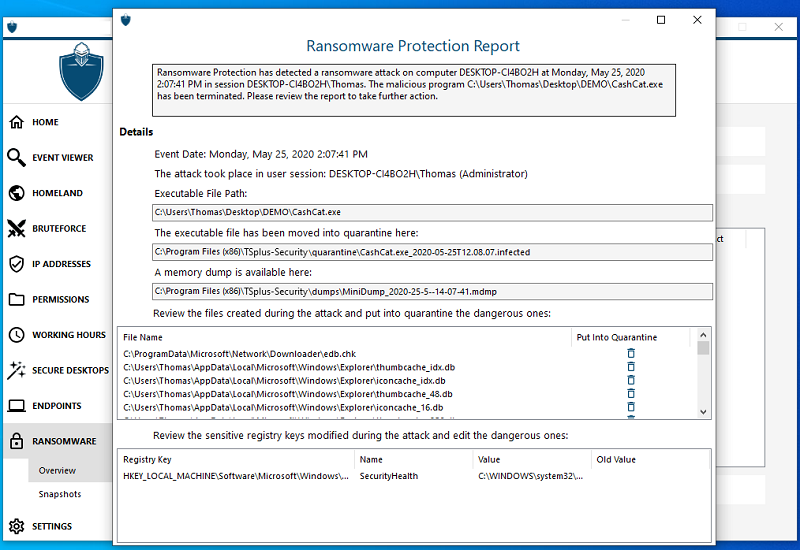 TSplus Advanced Security is able to ensure durable protection against Ransomware intrusions of today and tomorrow.

Additionally, the new "Snapshots" feature creates automatic backups of all files and programs opened before and during the attack, in order to easily restore them in a click!
All settings can be customized in the "Settings" tab, including the list of "trusted" publishers and programs to be ignored by the protection.

The trial version of TSplus Advanced Security V5 with its brand new Licensing system and Ransomware Protection is available with TSplus V14.
Download TSplus V14 Update Release.

For more information, check the Release Notes, Changelogs and Online Documentation.