On Windows, permissions are taken care of by the Operating System which defines, by default, the scope of privileges for each user profile (read, write, modify) and automatically prevents access to sensitive locations on the server.
However, if your server is exposed to the outside world through remote access protocols, and you do not have the best permissions scheme in place, hackers who succeed in connecting to your servers will have free run of your file system!
To be on the safe side, you need to manually configure the permissions for each file and folder. Only, Windows Permissions Management is often very complex…

RDS-Knight offers the easiest solution! Our Multi-security tool now includes a new " Permissions" feature to tackle the related security problems.
Along with 6 other protections available from RDS-Knight's dashboard, the administrator is able to see users and files side by side and to Inspect (Essentials edition) or Edit (Ultimate edition) privileges in few clicks.

See the video below:
Moreover, with the latest RDS-Knight version, our cyber-security program for Remote Desktop Services integrates it own built-in firewall!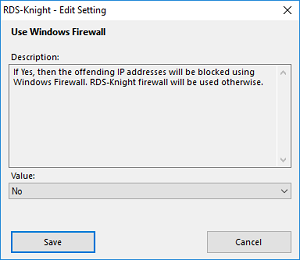 This nice innovation makes RDS-Knight enterprise-ready:
As an Admin, you will be able to use RDS-Knight in full compatibility with any other pre-installed firewall/antivirus. Your company can now enjoy RDS-Knight 's protection without using Windows firewall.
More, the built-in firewall has been designed to consume little bandwidth.
With its new firewall, RDS-Knight will have access to a wide range of data and will be able to perform Deep Packet Inspection and to develop useful network monitoring features in the future.
Download RDS-Knight free trial now and start managing your entire infrastructure in real-time.
For more information, please visit our website and discover the complete security toolbox for RDS administrators.